New Feature Release: Checkout Countdown Timer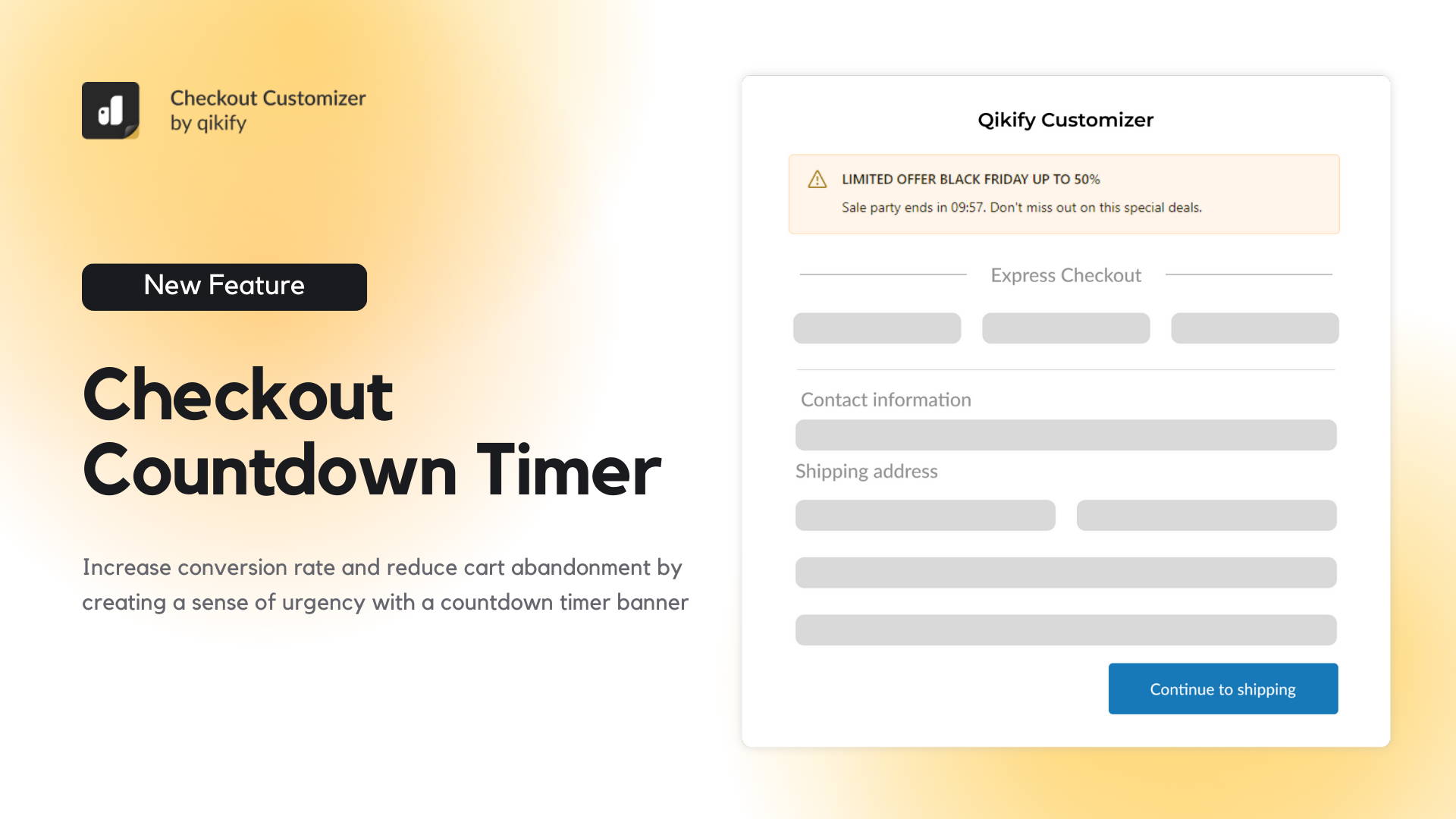 qikify Checkout Customizer is a suite of essential checkout customization solutions, trusted by over 700 Shopify stores. We are thrilled to announce the release of Checkout Countdown Timer - a new feature that allows Shopify merchants to display countdown timer banners on their checkout pages. Let's see how our new feature makes it easier for you to add a timer to checkout, and helps you increase urgency and boost sales.
Benefits of using our Countdown Timer Banner in online stores
Our Countdown Timer banner is a simple and easy-to-use feature that allows you to encourage buyers to make their last-minute purchases. You can create and customize your checkout banner with countdown timer in just a few clicks, to deliver better visibility to your promotions, to raise awareness and motivate immediate action, ultimately leading to higher conversions.
Countdown timer banner on checkout page

There are many benefits in using countdown timers on the checkout page that you might haven't known:
Amplified Visibility: Increase the visibility of your promotions to raise awareness and encourage people to act right away, which will ultimately lead to more conversions.
Elevated Urgency: Create a stronger sense of urgency with an optional countdown timer, which encourages customers to complete their purchase before the time expires, thus it reduces cart abandonment.
Improved Conversion Rates: Achieve better conversion rates by engaging visitors effectively and motivating them to take action quickly.
Improved Customer Experience: Countdown timers can make the checkout process more engaging and exciting for customers.
The best use cases of using Checkout Countdown Timer
In sales events like Black Friday, or Christmas Eve, we often see messages "Hurry, shop now while supplies last! Today only! and 1 hour left!" displaying on online stores to encourage visitors making their last-minute purchases. However, it is possible that during checkout, your customers can change their mind. To prevent the rate of cart abandonment due to this reason, you can give your customers a last hick by using a countdown timer on your checkout page to motivate customers completing shopping.
So, here are 3 common use cases you can learn from:
Promote discount campaigns
Use countdown timer to promote the discount for buyers who complete their purchase within a certain timeframe. This is a great way to create a sense of urgency and encourage customers to complete their purchase.
For example, you could offer a discount code to customers and show countdown timer in checkout page to motivate buyers to apply discount code to their order and complete their purchase before the offer expires.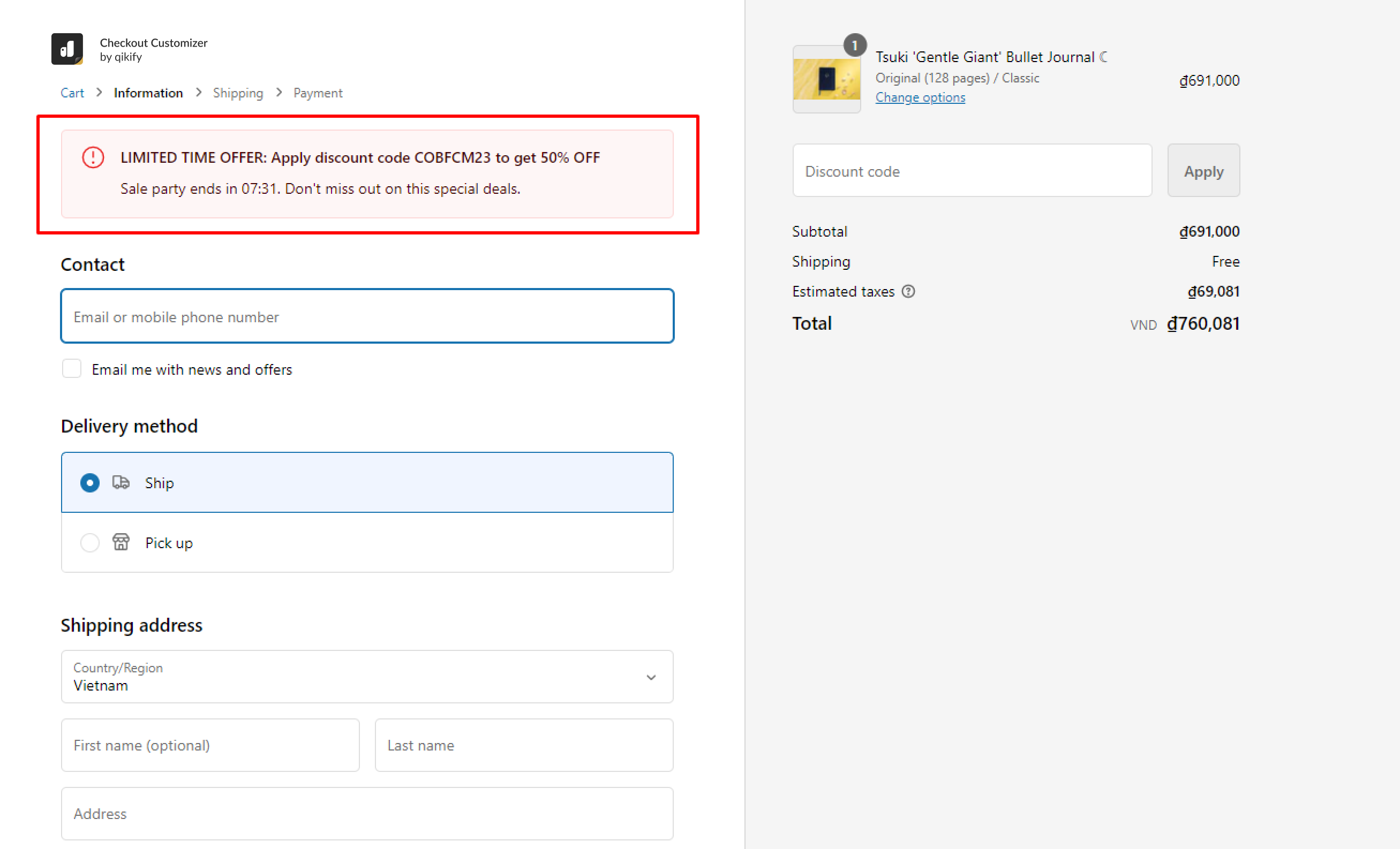 Create sense of urgency for limited-time offers and flash sale
When you are running a limited-time sale, you can use a countdown timer to remind customers that the offer is available only for a short time. You simply need to set the timer counting down to the end of the sale period and display it prominently in your store. This method can help you increase sales and reduce cart abandonments.
For example,
Burga
implements this tactic to create a sense of urgency and encourage customers to complete checkout by letting them know that their added item is in high demand and may sell out soon.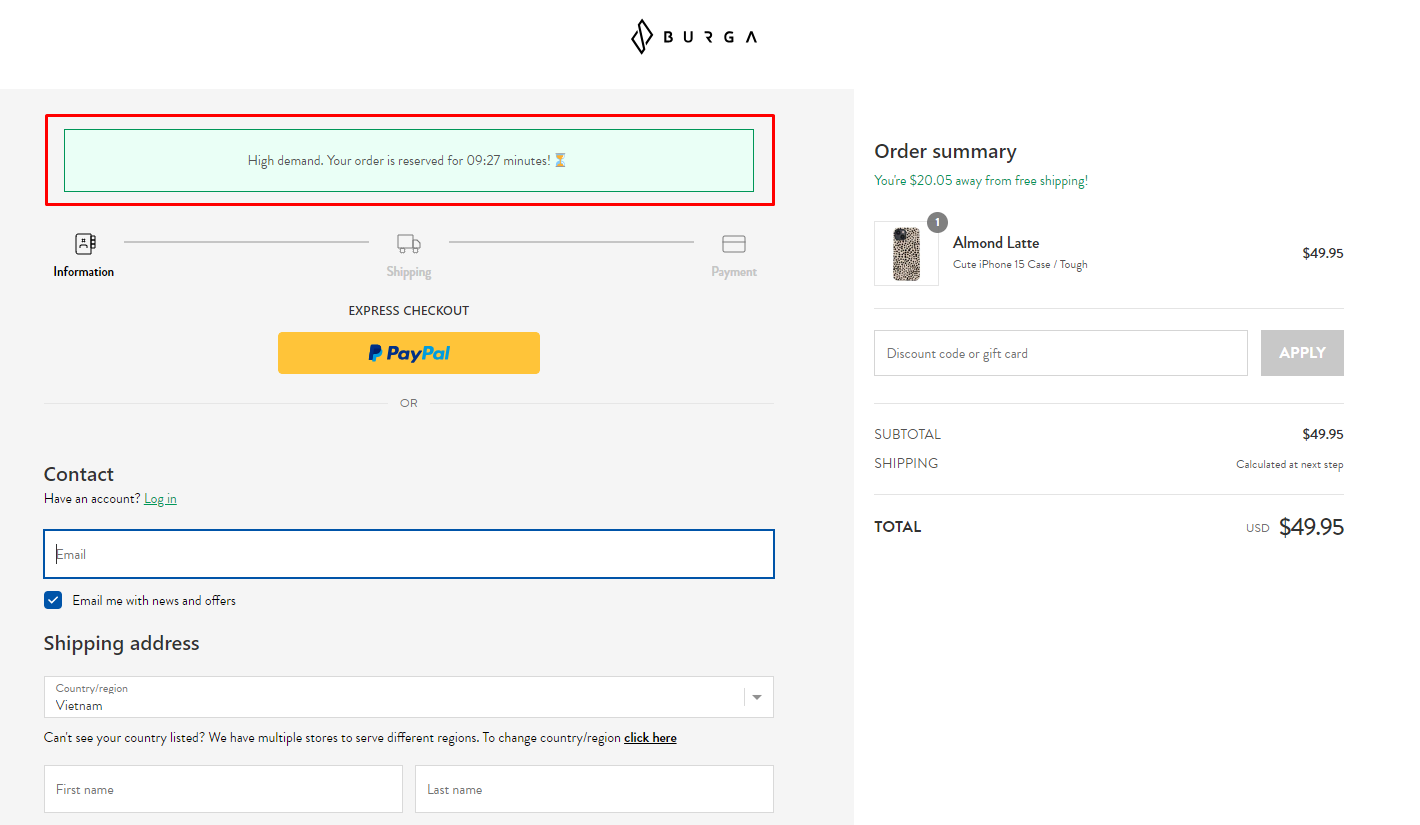 Offer free shipping in a limited time
A study by Baymard Institute found that
69.23% of online shoppers abandoned their carts
before completing their purchase. One of the main reasons for cart abandonment was shipping costs. Thus, offering free shipping for a limited time can encourage customers to complete their purchase before the offer expires.
ASOS
is a world-class example of how offering limited-time free shipping reduces cart abandonment rate. They usually offered free shipping on all orders over $50 for a limited time, resulting in an increase their sales during the promotion period.
How to use qikify Checkout Customizer's Countdown Timer Banner
Step 1: Customize banner type with dynamic messages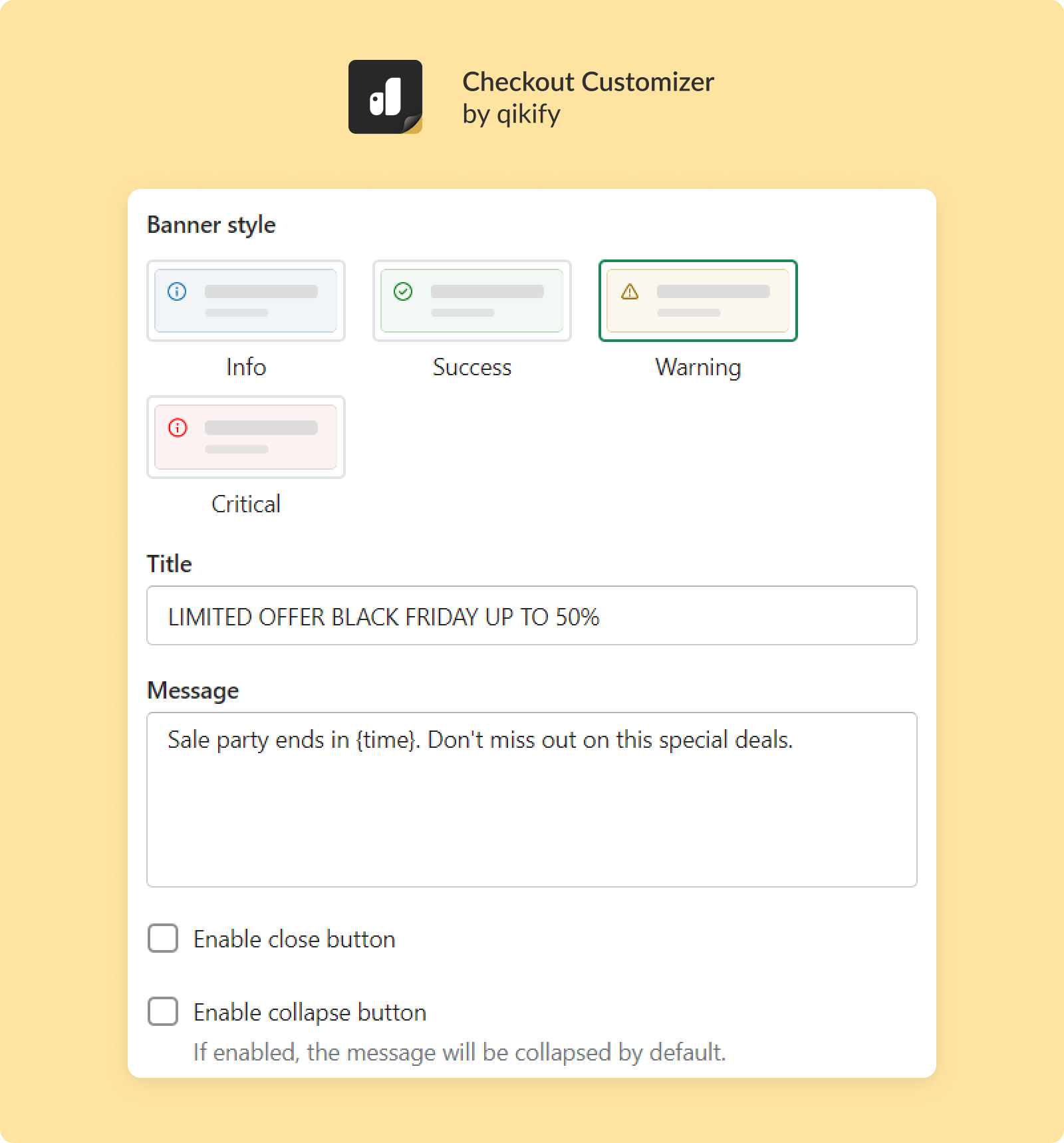 Step 2: Set up countdown timer with different actions after time expires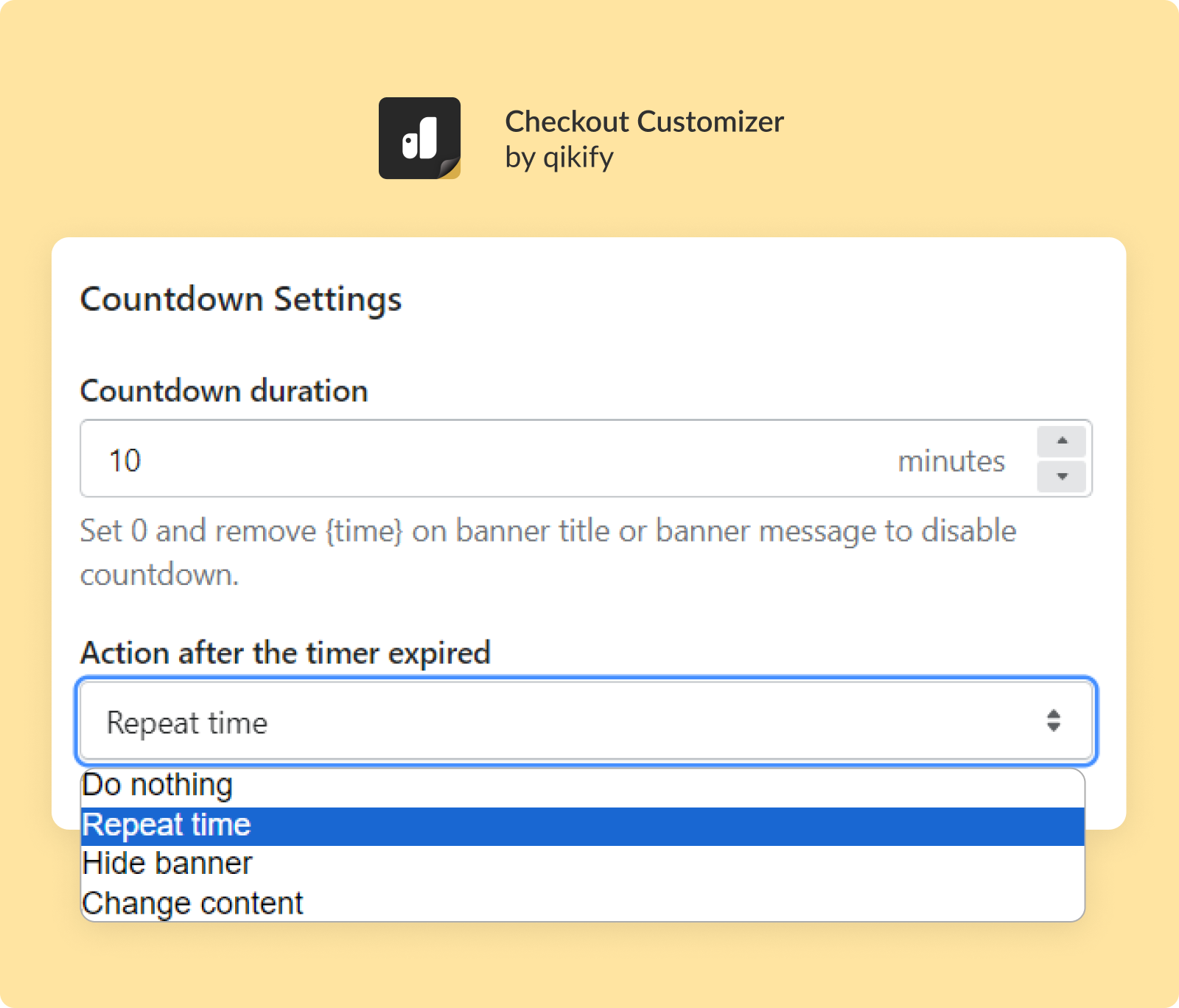 Step 3: Set up display conditions for your countdown timer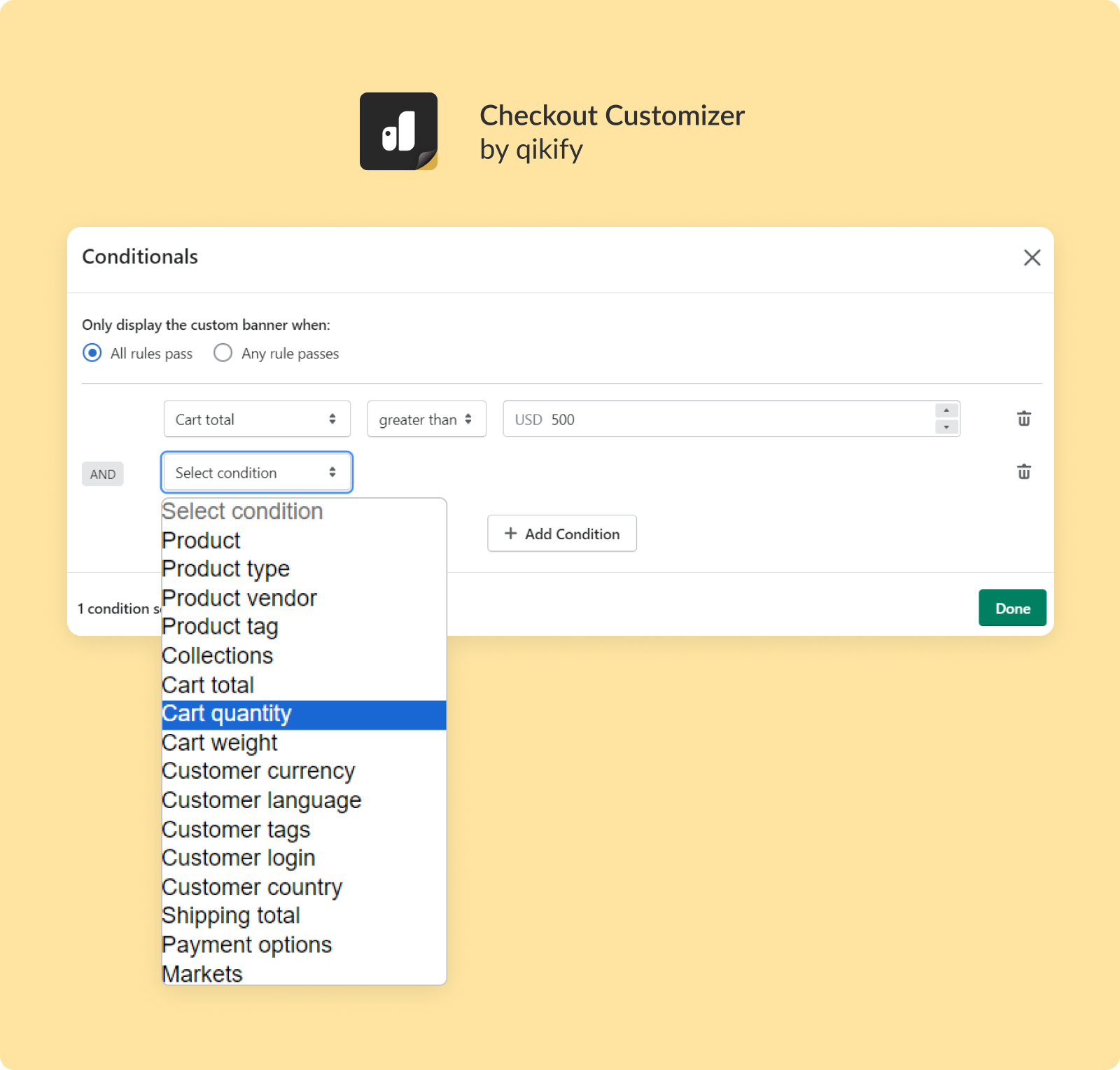 That's how you can use qikify Checkout Customizer's countdown timer banner to enhance your store's conversion rate. Don't forget, it is always free to install our app so stop hesitating and try our new feature now!
Copyright © 2018 - 2023 qikify. All Rights Reserved.