Shopify One-Page Checkout: Why it surpasses & How to active it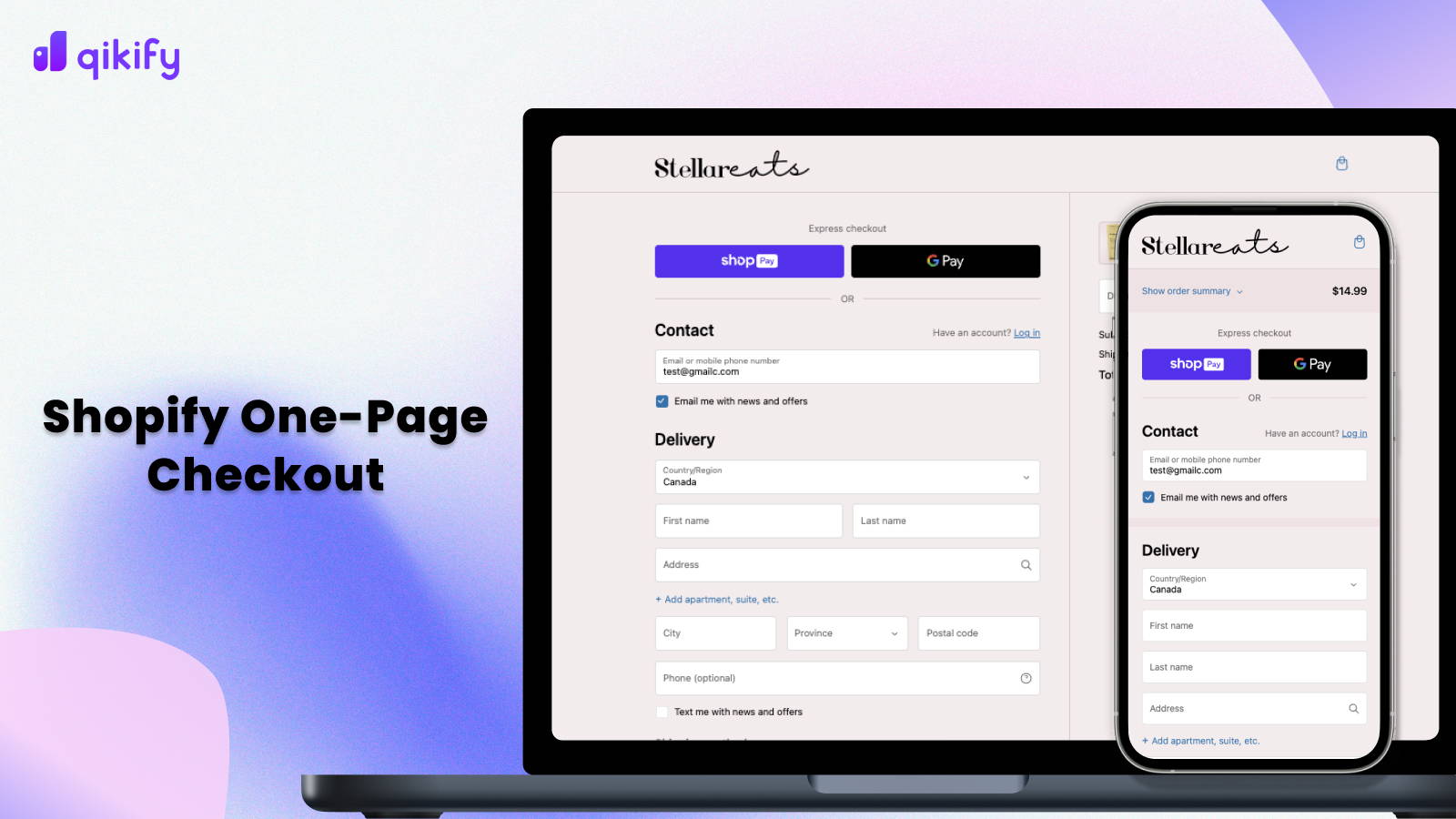 In the realm of e-commerce, the checkout process is pivotal. It represents the final step for visitors to transition into actual buyers. Born out of a drive for optimization, the Shopify one-page checkout process represents a leap forward from the conventional 3 or 4-page method of getting customer information, processing payments, offering shipping options, and order reviews.
The streamlined one-page approach addresses known issues from previous checkout formats, consolidating these critical steps onto a single, easily accessible page. Shopify one-page checkout is strategically designed to expedite order completion.
What is Shopify one-page checkout?
The Shopify one-page checkout, as mentioned earlier, gathers all the necessary steps from the previously common 3 to 4 pages into a single, streamlined page. This simplifies and speeds up the checkout process, making it faster and more user-friendly. They can input their information, select shipping and delivery options, make payments, and review their order, all in one handy place.
This purpose-built one-page checkout addresses common issues encountered in the three-page checkout.
For example, according to Baymard's 2023 report, 18% of checkout abandonments occur due to a lengthy or complicated process. With the continued global rise in mobile e-commerce sales, it's imperative to enhance the buying experience for mobile users. The primary objective of the Shopify one-page checkout is to reduce the time required to complete a purchase, ultimately boosting conversion rates and driving sales.
Transcendence of Shopify One-page checkout
1. Shopify One-Page Checkout Is Faster
While some may argue that combining all required sections into a single page could slow down the loading speed, this notion is not entirely accurate. Shopify has meticulously designed and engineered their one-page checkout with the primary goal of expediting the process. They've developed an integrated, advanced checkout platform, optimized for speed. This streamlined checkout system enables automatic updates to saved checkout information and simplifies the selection of billing addresses, enhancing overall convenience.
Consequently, Shopify has recorded an average of 4 seconds faster checkout completion time with the utilization of the Shopify one-page checkout. Additionally, this approach reduces both page loads and shipping rate load times, requiring fewer page loads and clicks. By consolidating all vital steps onto a single page, enabling seamless review without the need for page-switching, it significantly saves time and effort for customers. The Shopify one-page checkout stands as a testament to efficiency and user-friendly design in the realm of e-commerce.
2. The feeling of ease during the checkout process
Psychologically, customers who buy at a store that uses Shopify one-page checkout may feel more at ease. This is because all pertinent information, including potentially unexpected details like shipping rates, taxes, or additional fees, is presented upfront. In a multi-page checkout, customers input their basic information first and then encounter the final costs. Even if the final costs are only slightly higher than expected, providing prior information, and navigating through 1-2 pages, collectively impact their purchasing decisions. The one-page checkout displays all information at once, streamlining the process and potentially influencing their perception. Although the process is identical in both cases, it's important not to underestimate the psychological impact.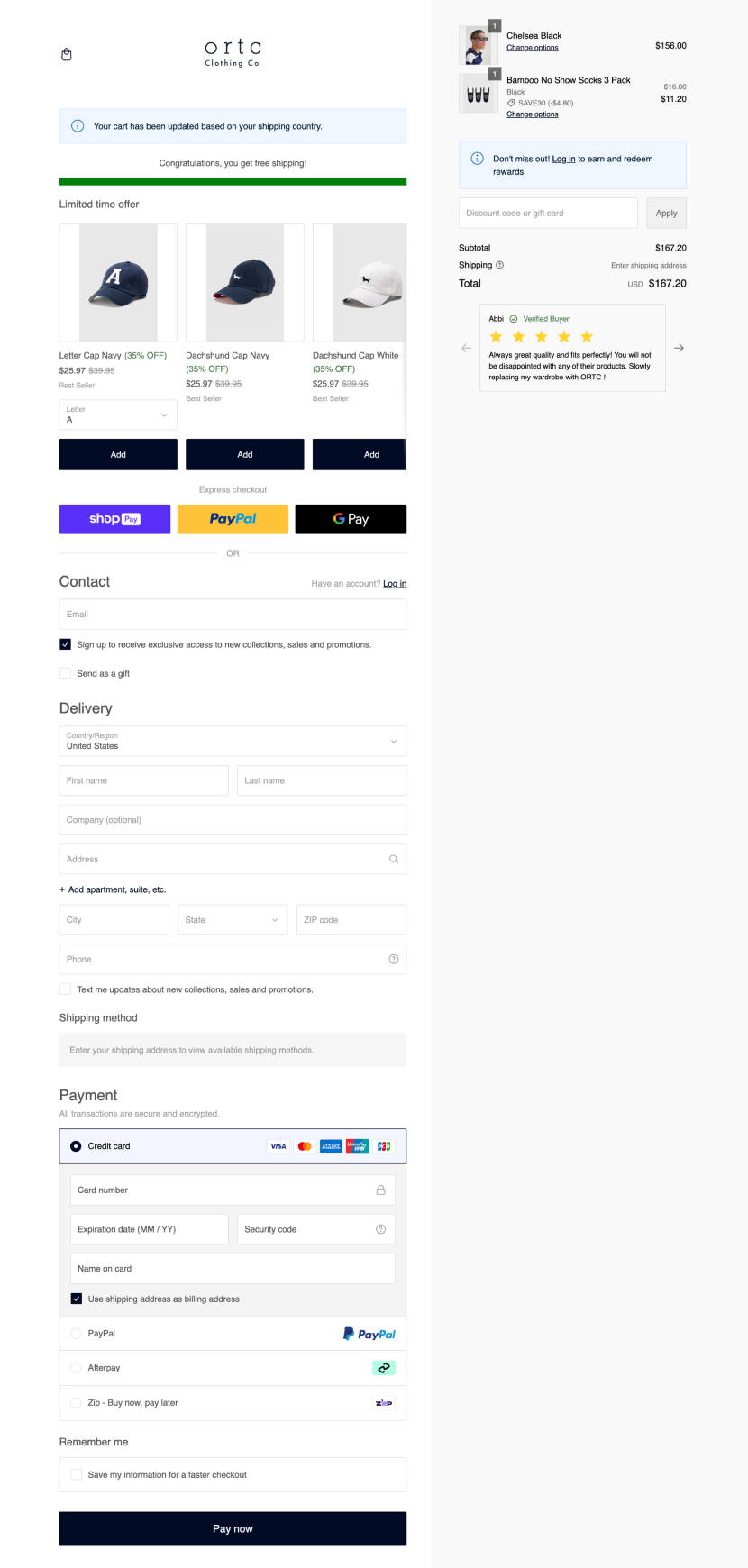 Every information of the order is shown on one place - ortc Clothing
All information that is required, available
payment methods
, shipping fees, and additional fees if incur are shown at once.
3. Enhance mobile Shopping Experience
As of 2023, Statista reports that mobile e-commerce constitutes a substantial 60% of global e-commerce sales. Nowadays, people heavily rely on their mobile devices for various activities, including entertainment, socializing, work, and, of course, shopping. Prioritizing the shopping experience for mobile users is a logical step. For those making purchases on mobile devices, scrolling is a more familiar action than switching between pages, making the Shopify one-page checkout with scrolling a more user-friendly and convenient option compared to the multi-page checkout.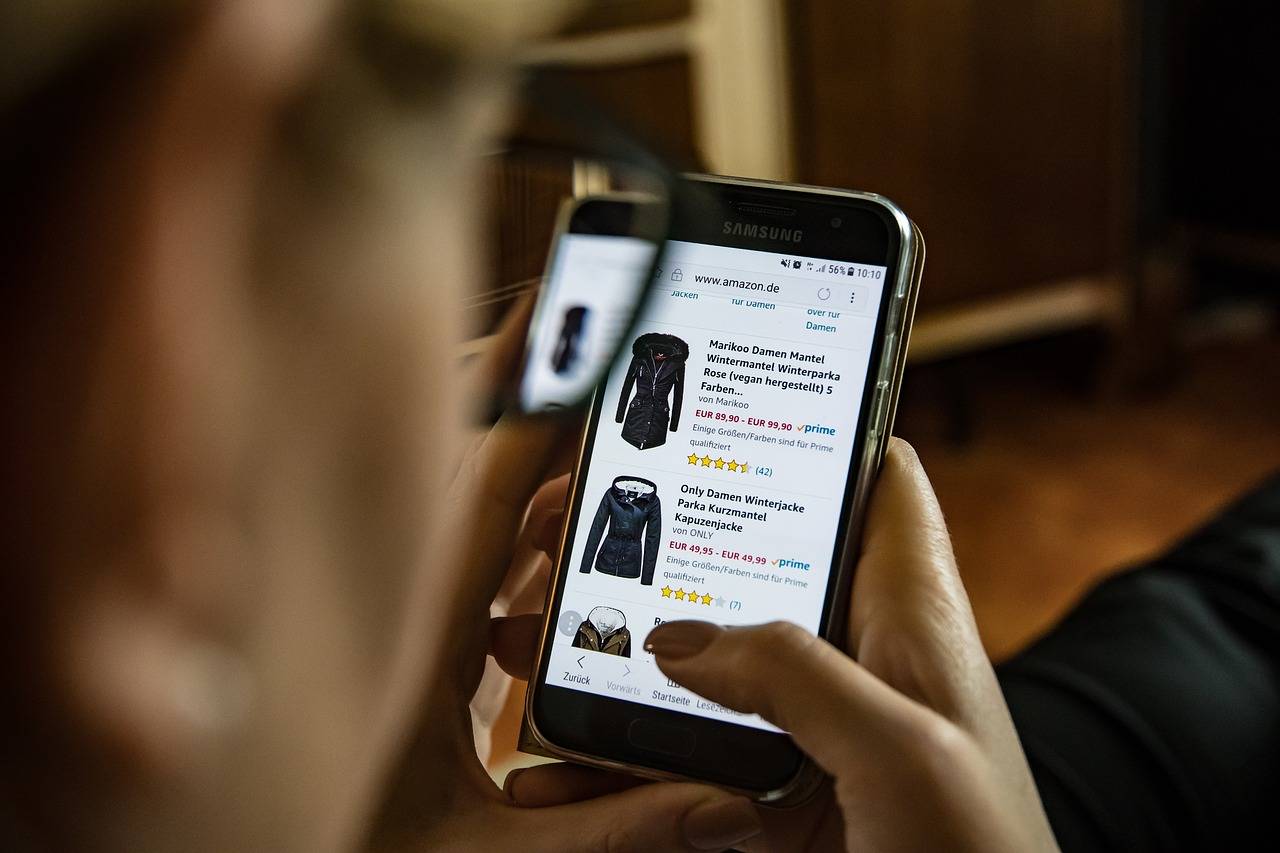 Mobile eCommerce constitutes up to 60% of global eCommerce sales
Though there are articles discussing the advantages and disadvantages of Shopify one-page checkout, the reality is that there is no one-size-fits-all set of pros and cons. It all depends on your specific business, your primary customer base, their purchasing habits, and the ultimate objective in optimizing the checkout page. What may be a perfect fit for one store might not be suitable for another.
In the next section, we'll highlight key considerations that can aid store owners in determining the most fitting layout for their needs.
Target customers exhibit diverse buying behaviors, influenced by factors like gender, age, and the average selling price. For instance, men tend to be more inclined to take risks related to fraud, potentially requiring less emphasis on trust-building during checkout.
Conversely, customers purchasing high-ticket items like ground pools exceeding $1,500 per order may seek additional reassurance through testimonials, reviews, and trust badges. This need is higher than less expensive items like casual clothes or food. Integrating supplementary elements, such as testimonials and trust badges, into a three-page checkout is generally less overwhelming for customers than a one-page checkout.
Add trust badges, and testimonials to your checkout page easily with no coding skills with qikify Checkout Customizer: app store link.
2. Customize checkout page to maximize conversions
Checkout customization is an exclusive benefit of Shopify Plus merchants. If you're a Shopify Plus merchant, don't let this opportunity slip by to elevate your conversion rates with a tailored checkout page. It's worth noting that there isn't a pre-built template for Shopify one-page checkout. To optimize your conversion rate and align it with your brand's aesthetic, we recommend leveraging Checkout Extensibility.
This tool empowers you to create a seamless and customized one-page checkout experience. Just like the three-page checkout, Shopify Plus merchants have full control over the customization process. Depending on your specific goals and challenges, consider integrating custom fields, upsell or cross-sell extensions, trust badges, and other strategies to drive sales.
If you are still using Checkout Liquid, we highly recommend switching to Checkout Extensibility. As Checkout.liquid will no longer work for in-checkout pages on August 13, 2024.

Notice on the deprecation of Checkout.liquid by Shopify
How to activate Shopify one-page checkout
Actually, all non-Plus merchants were automatically migrated on 2nd October 2023, to one-page checkout without the option of going back. Only Shopify Plus merchants can choose to switch between these two checkout page layouts.
For Shopify Plus merchants, you can easily choose your desired checkout layout at the Settings of Checkout Custom Editor by following these steps:
Go to your Shopify Admin > Settings > Checkout > Customize
On the Editor, click the Settings button and scroll down to the Checkout layout section.
Step 1: Access Checkout editor on Shopify Store Admin Settings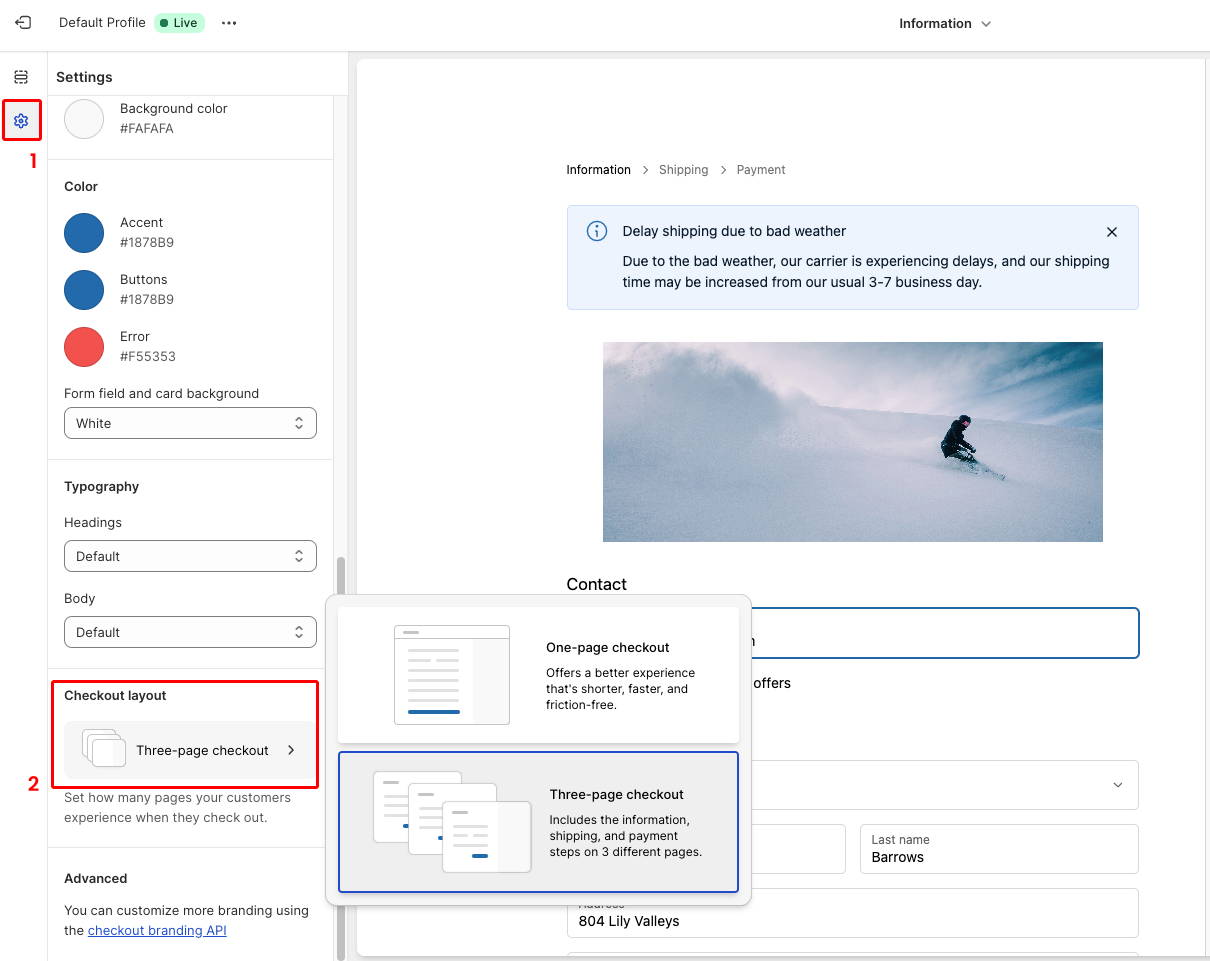 Step 2: Switch between layouts on the Settings
Conclusion: Choose the most suitable, not the newest
The Shopify one-page checkout marks a significant and promising shift from Shopify. They have focused on optimizing the three-page checkout for years until now, introducing a totally new layout for the checkout page. Nevertheless, some businesses may remain committed to their traditional three-page checkout. We advise all Shopify merchants to carefully weigh the distinctions between these two checkout types. Evaluate your current business situation, your selling strategy, whether are you relying on checkout upsell, and your required complex sections on the checkout page, before making a decision.
Remember, not every innovation is universally suitable.
Copyright © 2018 - 2023 qikify. All Rights Reserved.